News – THE FIESTA ST PROJECT – PART 3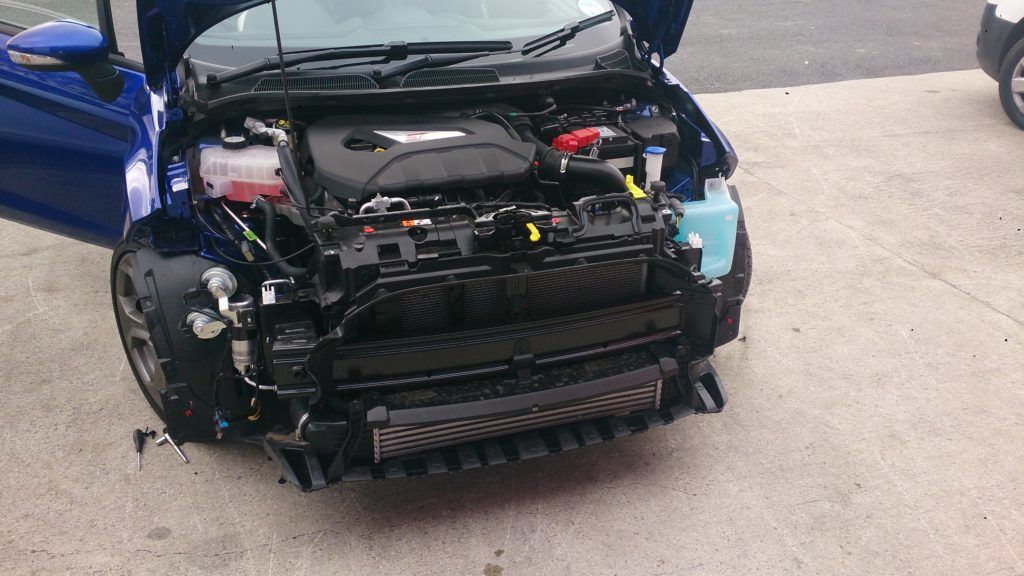 24/05/2014
The next step was to upgrade the standard Fiesta ST FMIC. There are a few choices on the market from Forge, Mountune and Airtech.  We chose the Airtech FMIC as they took the time to provide the most data about their product.  They recorded an impressive temperature drop. Plus they come in at a great price and the quality and finish is superb.
So we set about fitting the FMIC.  The Airtech came with great instructions and we followed them easily. First of all we needed to remove some torx head screws from the slam panel and remove the headlights.
3 x 10mm bolts behind the headlights on each side and a few plastic fixings underneath the bumper and it was removed without fuss.
5 bolts hold the intercooler to the car and 2 hose clips and the standard intercooler was removed.
Side by side the Airtech was thicker in depth and this is what gives the extra cooling effect. So in less than an hour the new FMIC was installed and we were ready to take it for a test drive.
But first we were impressed with the visual presence of the Blue Airtech logo peeping from under its bumper, very sexy indeed.
Out on the open road the improvement was immediate, power delivery was more snappy the surge on boost stronger and more prolonged. I'm very impressed with the results of this upgrade, far better than expected in fact its left me hungry for more so what can we do next. hmm..Stage 2 Remap ? Quick shift ? Decat ! How about some up rated pipe work under the hood how about all 4 ?
Stay tuned for what we did next in part 4
Written by Chris Fisher